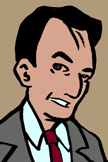 Richard Okubo is among the rarest of humans – an enlightened plutocrat. He is the CEO of Okubo Industries, the largest company in the state, and serves as the Chair of the Margaret Okubo Foundation, the state's largest charity (named after his late grandmother). Richard Okubo is a personal friend of Senator Mark Tully and several other notable business and political figures; there is very little in west coast business or politics that he is not aware of and somehow involved in. Since the last Margaret Okubo Foundation fundraiser he appears to have begun following Kate's career with some interest.
References
[
]
2006-05-22 Meets Kate at Fundraiser Ball
2007-03-30 Buys signed copy of Kate's Book in Los Angeles.
2008-07-17 Introduces Brian to Liz Dudley.
2009-01-30 Runs into Kate again at Inaugural Ball