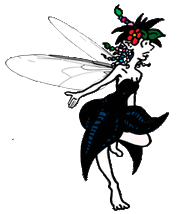 Peaseblossom is a magic pixie who is frequently found working in various capacities in Santa Claus's assorted facilities during the Christmas rush. She has also been seen moonlighting in dream sequences and working as Bonnie Jackson's imaginary friend.
Peaseblossom's personality is, at best, mercurial going from friendly and cheerful to wracked with self pity when the slightest thing goes wrong. She is also a desperate political climber who can turn into a petty tyrant when given the slightest amount of power.
Peaseblossom appears to be as much a meme as she is an individual as people dressed as her have been seen at costume parties and fantasy conventions.
Appearance
[
]
Peaseblossom is a small woman, anywhere between five inches and five feet tall, with fly wings and pointed ears. When she is not on duty she usually wears a black gossamer tutu. Her black hair is normally a mess, full of flowers, leaves and beads.
She speaks with a thick Devon accent.
References
[
]
1 Picks up Kevin in a Vancouver bar to work in Frasier River
2 Appears in Hong Kong to take him to the Castle in the Heart of the Storm

3 Supervises the change of management at Area 51

4 Works in the prison where the naughty children are taken.

5Appears in Francine's dream about Gothica.

6 Moonlights as an imaginary friend.

7 Is the manager in charge of Santa's new "Relay Station" facility.

8 Works in Santa's Mailroom in the Castle in the Heart of the Storm.