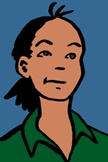 Paul Huen is a recent arrival from the Far East (Boston Massachusetts.) He came out here for the music scene and he wanted to be close to his relatives in San Francisco and Vancouver (while safely avoiding them.) He's is a classically trained clarinetist and saxophone player. He currently juggles his schedule between freelance gigs and the Circle Band .
Appearance
[
]
A Short asian man with a receding hairline. He wears what hair he has left long in the back.
Personality
[
]
Paul tends to be too serious for his own good, slightly neurotic, cynical, skeptical, stubborn with a fairly well developed dry wit. Paul has opinions about just about everything and he is more then happy to share them. His frequent kvetching hides a stoic fatalistic streak. (He is self-conscious about his swiftly receding hairline, but would sooner shave his head than do anything about it.)
Relationships
[
]
Michelle has been trying to hook Paul and Nancy up for some time. In an effort to get her off their case they have been pretending to have a relationship. Over time they seem to have hit it off.
For the longest time the two were in constant denial of anything resembling a relationship (while continually hanging out together long after the "plan" required) but finally they ran out of excuses and consumated their relationship.
Referneces
[
]
1 First Appearance, Moves to Tir Al Nog Apartments
2 Joins Circle Band
3 Gets drafted into going on a blind date with Nancy by Michelle
4 Goes on Date with Nancy workout an arrangement to break up once Michelle gets it out of her system.
5 Attends the final World Series game with Nancy.
6 Goes on China Tour with the rest of the band.
7 And gets lost on the way home.
8 Attends Michelle's Halloween Party.