Lisa is Kate's longtime assistant at Lysistrata Boo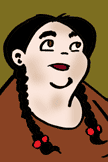 ks. Far more grounded than her boss, she tends to look at the goings on at the store as her own personal spectator sport.
Appearance
[
]
A short overweight latina. Usually wears her long black hair in pigtails.
Reference
[
]
2004-11-26 First appearance

2007-04-25 Interviews job applicants.