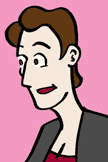 Janet is Kate's friend and accountant. (even though she can't understand why Kate would want her services when the "Mozart of Accounting" is willing to do Lysistrata Books' accounts for free) Janet is probably the most grounded of Kate's immediate circle of friends with the exception of her extremely questionable taste in men... (she's not stalking Brian... Honest!)
Reference
Edit
1 First appearance, has meeting with Kate, reveals proffesional knowledge (and interest) in Brian.
2 Visits Kate to meet Brian.
3 Attempts to get Brian's attention, appears to be stalking him.
4 Goes to Kate's party
5 Argues with Kate over Brian.
Community content is available under
CC-BY-SA
unless otherwise noted.